Low Price IGBT High Frequency Induction Heating Machine (JL-80)
Main
Feature
:
It a

dop

ts the most advanced

MOS

,

IGBT

frequency conversion control technologies to realize automatic tracking of frequency.

It has the constant current and power control function, which can significantly optimize metal heating process, realize the high efficiency and fast heating and bring into play the superior performance of the products.

About ten types fault protection and

display

of over-current, over-voltage, water shortage and phase missing can provide higher reliability and durability.

It is safe and reliable, and requires no equipments of ten thousand voltage, and thus can ensure the safe operation.

It is

available

for infrared temperature measurement, which can realize the automatic control of temperature, improve the heating performance and simplify the manual operation.
Technical Parameters
:
Model

JL-80KW

I

nput power desire

3 phase 380V 50/60HZ

Max

oscillate power

80KW

M

ax input current

105A

O

scillate frequency

30-80KHZ

C

ooling water desire

>0.5MPa

≥

6

L/Min

D

uty cycle

100%

4

0°C

D

imensions(L*W*H)

Generator: 750*460*870mm

Transformer: 950*450*500mm

N

et weight

80kg/85kg

C

able length

2-6(Meters)
Spare Parts for JL-80KW
Item

Name of machine or parts

Specification

Amount

1

JL

-80

KW

Induction heater

-

1 pcs

2

Foot

pedal

3 core

1 pcs

3

Induction Coils

-

2

sets

4

Water Cable

-

1 set

5

Instruction Manual

-

1

pcs

6

Product catalog

-

2 sets
Main Parts Introduction
Germany SIEMENS INFINEON IGBT Module. ( 40-60KHZ oscillation frequency, fast response time, superhigh stability, almost spatter-free welding )
Japan Nichicon electrolytic capacitor. ( filter capacitor )

Imported transistor integrated block.

All water pipe use thermostability, High pressure resistance best quality material.

Main card, signal circuit, drive circuit board,control circuit board and components are adopted:

Toshiba, Hitachi,Motorola, China's top manufacturers.
International advanced all-solid-state semiconductor power devices.
Technical advantage:perfect control, alarm display circuit, getting full automatic tracking frequency, continuous adjustable power, safe dependable protection,clear and accuracy data display

and etc.

Superiority Advantages: fast heating, wide application, small size, easy installation, simple operation, low power consumption, high efficiency.
Photo of Machine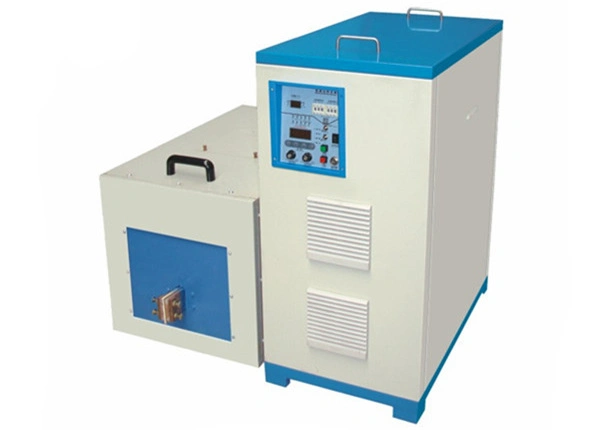 Applications: Forging, Heat treatment, Welding, Melting, etc.
1.
Forging Molding
M.F. forging furnace is used for the heating of bars and rods larger than Φ12, the material can be steel, stainless steel, copper, brass ,aluminium and so on. The heating can be the whole rod, end of the rod or middle part of the rod.
Application Examples:Fasteners, Hardware tools, Automobile and motorcycle accessories, Rigging, Pipe fittings, Twist drill, Atlas, Table, Mould parts, Standard parts, Handicrafts, Machinery parts, Brass lock, Lock, Rivets, Other hardware and metal accessories.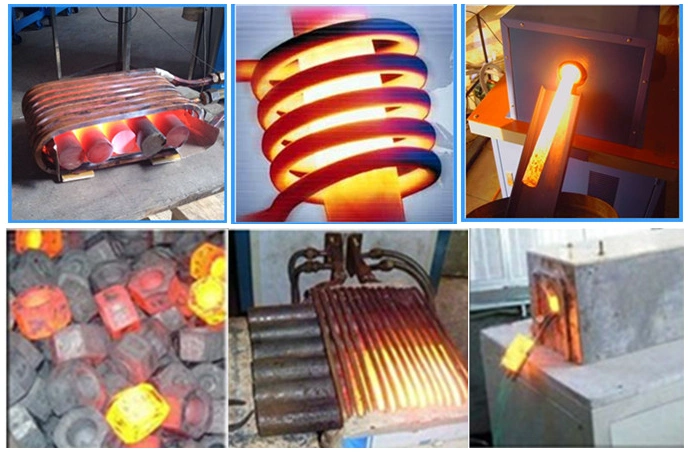 2.Heat treatment

:

such as Quenching, Annealing
Heat treatment process is the metal work-pieces heated to a certain temperature, obtained different matrix organization after different ways of cooling, so that to achieve the required mechanical properties (material harder or softer), such as quenching, annealing, etc.
Applications Examples: Shaft, Shaft core, Plate, Gear, Sprocket, Steel belt, Machine tool accessories, Guide rail, Hardware tools, Small mold, Mold accessories, CAM, Automobile and motorcycle accessories, Scissors, Garden shears blade, Chuck, mechanical parts, Stainless steel products, Cistern, Kitchen ware, Golf head, Clubs, Steel tube, Furniture fittings and Other related products.
3.

Brazing, Welding, Soldering
Brazing is a fusion and solidification process which refers to the use of magnetic field induction heating to make the temperature of metal materials junction reach the melting point of welding, or the temperature of metal materials to reach between nonmetallic material.
(1). Any industry of add
welding material
connection.
Such as:
C
utting tools (
T
urning,
M
illing cutter,
W
oodworking tools,
S
errated blade,
S
hoe materials,
D
iamond tool,
D
eep hole drilling,
D
rilling etc.),
F
aucets,
B
athroom accessories,
S
howers,
C
oal drill,
D
rill bit,
T
erminal blocks,
F
urniture fittings,
R
efrigeration equipment,
P
ad tube,
H
eating plate,
E
gg beater,
L
ighting accessories,
B
ranch distributor,
B
icycle up and down the fork iron,
C
opper pieces,
A
luminum,
S
tainless steel.
(2).
Do not add
welding material
connection.
Such as
: C
omputer radiator core and copper core
, M
otor rotor and shaft
, H
orn net prepar
e
tions
, H
anger hook
, C
opier carbon brush melt
, A
luminum-plastic pipe
, C
ompound prepar
e
tions kettle
, T
ool shank cure
, T
ableware curing rubber handle
, B
attery pole ear forming
, A
luminum foil sealing
etc.
Package
Company information:
Dongguan Jinlai Electromechanical Device Co.,Ltd.,

founded in 1996, which is engaged in R&D,
production andsale of solid Induction heating machine professionally. Several senior experts of induction heating equipment gathered here, who initiate the induction heating machines with environmental protection and highly effective energy conservation, positively and diligently.

Our Services:
1. Pre-sale service:
Recommend the most suitable machine for customers, according to their requirements.

Inquiry and consulting support.

Sample testing support.

View our Factory.
2. In-sale service:
Strictly manufacture the machine, according to relevant technical standards.

Take run test, according to relevant equipment test run regulations.

Strictly check up the machine, before delivery

Delivery on time.
3. After-sale service:
12 months warranty period

Within one year free warranty, any fault caused by non-artificial reason, any quality problems such as design, manufacture, or procedure occurs, Jinlai shall provide replacement parts after detecting the faults.

If any big quality problems occurs out of the guarantee period, Jinlai will send maintenance

Technician to provide visiting service after checking with the customer and charge for a favorable price.

Jinlai will provide a lifetime favorable price to the buyer with the materials and spare parts used in system operation, equipment maintenance.

The above mentioned are only basic after-sale service requirements, we will make more promises related to quality assurance and operation guarantee mechanism.
FAQ
China Supplies Induction Heating Power Supply
Questions and Answers:
1. Which countries your products are exported to?
Our products are sold all over the world and with related certifications.
2.How about the warranty?
All our products have one year quality warranty, during the warranty time, the spare parts replacement is free. And we provide life long time technical support and other assistance.
3.How to install your machine?
We have paper installation instructions and videos, we will teach till you learn it.
4. Which export port you use?
Any China port, commonly we will use Shenzhen ,Guangzhou ,Hongkong port, it can appoint as you like.
5.How about the payment terms and delivery time ?
Payment terms for small machines: 100% T/T/ Western Union/Cash in advance.
The big machines and big amount: 30% deposit,70% before shipment (we will shoot total delivering process for customer's confirmation)and the related papers.
You
c
an pay by T/T,L/C, Western Union or other ways.
The small machine delivery time is within 7 days, the bigger one takes about 15days,we will delivery goods on time.
6.If I have paid but can not receive the goods, how should I do?
Alibaba international website is a famous trade platform and has been mature those years
,every supplier on it has paid large integrity fund,and we have Chinese business licenses which can be checked on China official website or we can show it to you,so that situation will never appear, please be assured.
7.Is your goods has ISO9001 or CE certificate ?
Yes,
all our goods has ISO and CE certificate. All machines are high quality goods.
8.What is your nature of your company:dealer or factory ?
We are manufacturer and have a big factory ,warmly welcome to visit our factory and contact us.
High Frequency Series JL (30-100KHZ)
Model

JL-5

JL-15

JL-25

JL-30

JL-40

JL-50

JL-60

JL-80

I

nput power desire

S

ingle phase 220V 50/60HZ

3 phase 380V 50/60HZ

O

scillate power max

5KW

15KW

25KW

30KW

40KW

50KW

60KW

80KW

M

ax input current

20A

37A

24A

38A

48A

65A

80A

105A

O

scillate frequency

100-250KHZ

30-100KHZ

30-100KHZ

30-100KHZ

30-100KHZ

30-100KHZ

30-100KHZ

30-80KHZ

C

ooling water desire

>0.2MPa 2-

6

L/Min

0.3Mpa≥6L/MIN

D

uty cycle

80%

4

0°C

80%

4

0°C

100

%

4

0°C

10

0%

4

0°C

100

%

4

0°C

100

%

4

0°C

100

%

4

0°C

100

%

4

0°C

N

et weight

19kg

21kg

28kg

25kg/23kg

35kg/30kg

45kg/30kg

50kg/30kg

80kg/85kg

C

able length

2-6(Meters)