High Frequency Igbt Induction Heating Unit For Forging And Hardening

Main characteristics
Adopting MOSFGT and IGBT inverting device, tracking frequency automatically
High frequency, heated quickly, its power consumption is only 20%~30% of electronic tube induction heating machine and other heating style.
Security and reliability, the equipments have the secure voltage and it's secure to operate
Manual, automatic regulating automatically, it can protect itself from over voltage, over current, lack of water, phase fail, over hot, etc
It has no open-fire, noise and pollution, be suit for the environmental protection and fire, improve the image of the company.
Recommend usage: Weld, forging, hot cooperation, melting, quenching, annealing etc
Superaudio Frequency Series (10-30KHZ)
Model
JLC-30
JLC-50
JLC-60
JLC-80
JLC-120
Input power desire
3 phase 380V 50/60HZ
Oscillate power max
30KW
50KW
60KW
80KW
120KW
Max input current
48A
63A
90A
135A
195A
DC current
60A
80A
120A
150A
250A
Oscillate frequency
10-30KHZ
10-30KHZ
10-30KHZ
10-30KHZ
10-30KHZ
Timing
1M-99.99M
1S-99.99S
0.01S-99.99S
1M-99.99M
1S-99.99S
0.01S-99.99S
1M-99.99M
1S-99.99S
0.01S-99.99S
1M-99.99M
1S-99.99S
0.01S-99.99S
1M-99.99M
1S-99.99S
0.01S-99.99S
Cooling water desire
0.2Mpa ≤40°C
0.3Mpa ≤40°C
0.3Mpa ≤40°C
0.4Mpa ≤40°C
0.5Mpa ≤40°C
Duty cycle
100%
Net weight
60kg/30kg
65kg/45kg
70kg/45kg
80kg/55kg
110kg/90kg
Cable length
2-6(Meters)
2-6(Meters)
2-6(Meters)
2-6(Meters)
2-6(Meters)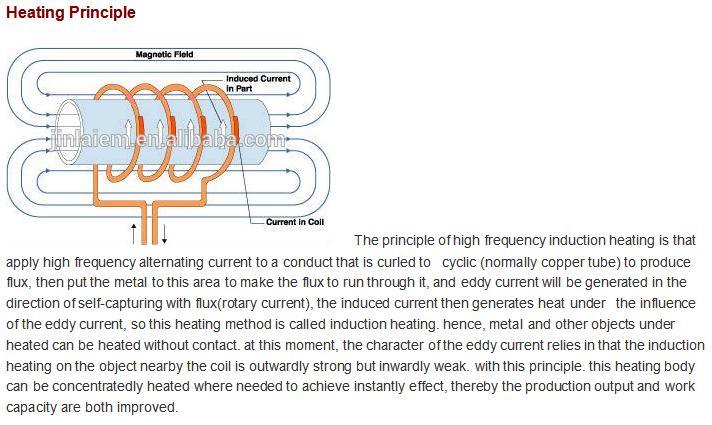 Application
Multifunction of induction heating/forging machine:
1) Heating/Hot forging: hot forging and hot rolling of fastener standard parts, automobile parts, hardware, cables, twist drill, etc.
2) Hardening/Quenching: for shafts, gears, chain wheels, castellated shafts, machine tools surfaces and bodies, automobiles, motorcycle parts, etc. quenching.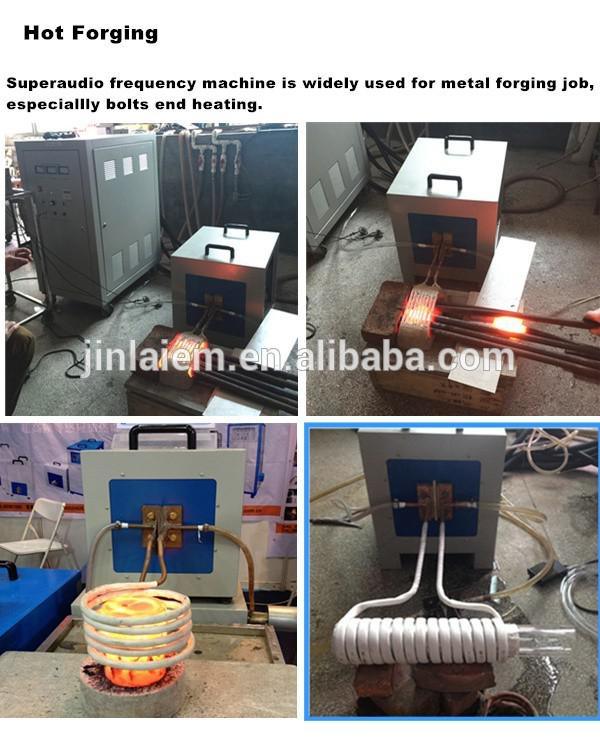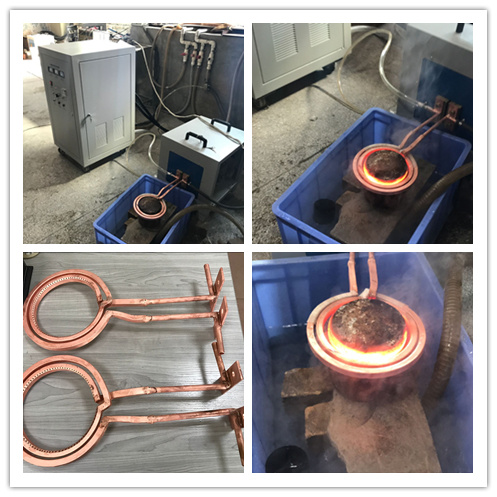 Our Induction Heating Machine with multi-protective functions to over-voltage, over-current, over-temperature, water fail, phase fail and is safe and reliable.
Lower power consumption, the IGBT technology save 15-30% energy, 100% full load, working 24 hours continuously.
Company Information:
FAQ
China supplies induction heating power supply
Questions and Answers:
1. Which countries your products are exported to?
Our products are sold all over the world and with related certifications.
2. How about the warranty?
All our products have one year quality warranty, during the warranty time, the spare parts replacement is free. And we provide life long time technical support and other assistance.
3. How to install your machine?
We have paper installation instructions and videos, we will teach till you learn it.
4. Which export port you use?
Any China port, commonly we will use Shenzhen, Guangzhou, Hongkong port, it can appoint as you like.
5. How about the payment terms and delivery time?
Payment terms for small machines: 100% T/T/ Western Union/Cash in advance.
The big machines and big amount: 30% deposit, 70% before shipment (we will shoot total delivering process for customer's confirmation)and the related papers. You an pay by T/T, L/C, Western Union or other ways.
The small machine delivery time is within 7 days, the bigger one takes about 15days, we will delivery goods on time.
6. If I have paid but can not receive the goods, how should I do?
Alibaba international website is a famous trade platform and has been mature those
Years, every supplier on it has paid large integrity fund, and we have Chinese business licenses which can be checked
On China official website or we can show it to you, so that situation will never appear, please be assured.
7. Is your goods has ISO9001 or CE certificate?
Yes, all our goods has ISO and CE certificate. All machines are high quality goods.
8. What is your nature of your company: Dealer or factory?
We are manufacturer and have a big factory, warmly welcome to visit our factory and contact us.