Portable MF Induction heating melting furnace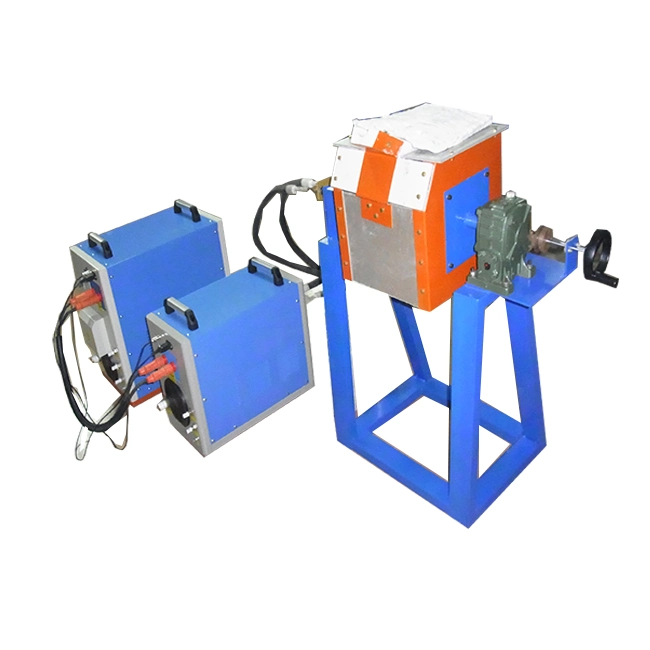 Falls type melting funace

1. MAIN FUNCTION OF MF INDUCTION MELTING FURNACE:
1.Easy to install and operate
2.Small volum,portable and moveable,Only take less than 1M2 area
3.24 hours continuously melting.
4.save energy
5.Convient to change difference weight and material furnace,So that to meet different melting requirement.
6.Adopt very small MF induction heating power,MF field force can stir the melting pool to achieve better melting quality,
7.Melting the maximum quantity by the recommend machine according to above table,the melting time is 30-50minutes if the furnace is cold .it will take about 20-30minutes for the later melting if the furnace is already hot.
8,suitable for melting steel,copper,bronze,gold ,silver and aluminum,stannum,Maqnesium,stainless steel



2.

Main parts of the furnace
1.Mini MF induction heating power
2.compensationg electric heating capitance box
3,falls typr melting furnace
3.
Main type and typical application
type

Carbon steel and steel melting

Copper and expensive metal melting

Aluminum and Magnesium

CW-MF-15 15KW melting furnace

5KG or 10KG

3kg

CW-MF-25 25KW melting furnace

4KG or8KG

10KG or 20KG

6kg

CW-MF-35 35KW melting furnace

10 kg or 14kg

20kg or 30kg

12kg

CW-MF-45 45KW melting furnace

18kg or 22kg

40kg or 50kg

21kg


CW-MF-70 70KW melting furnace

28kg
60kg or 80KG
30kg

CW-MF-90 90KW melting furnace

50kg
80kg or 100kg
40kg

CW-MF-110 110KW melting furnace

75kg
100kg or 150kg
50kg

CW-MF-160 160KW melting furnace

100kg
150kg or 250kg
75kg
Application:
DETAILED MACHINE PICTURE: